Jonathan Pullinger is a Technical Blockchain ICO Specialist based in London ​. [2] ​ He is the CTO ​ of Tatatu ​, a decentralized social entertainment platform. [3] ​
Early Life and Education
Pullinger is originally from Whitstable ​. [2] ​ He attended the University of Cambridge ​ where he earned a Bachelor's degree in Computing and Natural Science in 2003. [3] ​
Career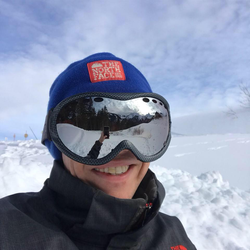 Taking a selfie while out skiing
Previously, Oullinger worked as a Development Manager of Sony Mobile ​, was a Manager at Chalet Rentals, and was a Freelance Consultant. [3] ​ He is the Founder of Tazze.co.uk, an information technology consultancy activities company. [3] ​ In 2018, Pullinger joined Tatatu ​ as their CTO. [3] ​ Working alongside founder and Hollywood Producer Andrea Iervolino ​, Pullinger is building a blockchain-based entertainment platform that creates a token ecosystem where content consumers and creators can earn rewards through their engagement with the platform. [3] ​
Personal Interests
In his free time, Pullinger enjoys skiing and in his youth wanted to be on Great Britain's ski team. [3] ​