Jennifer Porter Willoughby is a resident of Virginia ​ known to have been married to Rob Porter, who is the current White House Staff Secretary ​ for Donald Trump ​ and known to be the lover of Hope Hicks ​. [1] ​
Jennifer Willoughy from her exclusive interview with Daily Mail ​.
Personal Life
Willoughby lives in the state of Virginia ​ and has lived there for many years. [2] ​
Marriage with Rob Porter
Photo of Jennifer Willoughby from her wedding.
On Thanksgiving, 2009, the couple, Jennifer Willoughby and Rob Porter married. The two would go to their honeymoon during the holidays in Myrtle Beach, South Carolina ​ and also in New York City ​. At some point during the honeymoon, Porter displayed what would become a customary nature in their relationship, and verbally abused his newly-wed. Porter called Willoughby "Fucking Bitch". [3] ​
For months before their marriage she had seen glimpses of the anger and abuse that Porter would then practice in front of Willoughby. According to Willoughby, the two had constant arguments with one another. Willoughby says the following: [4] ​
"In the first weeks and months, his explanation for his anger was that his first marriage had been very toxic, rooted in arguments, accusations and manipulation and he was carrying over from that relationship. He would say that he was so used to being treated this way by his ex-wife that he was projecting that on to me. That was the explanation." [5] ​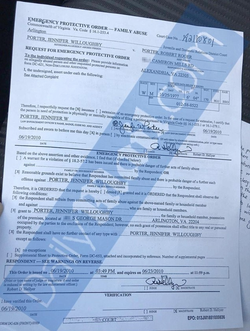 The Emergency protective order filed by Jennifer Willoughby against Rob Porter.
After being manipulated and gaslighted throughout the early phase of the marriage she decided that she wanted a separation from Porter.  He would often say that she was a liar and worthless. Due to the stress over the emotional abuse that she received at the hands of Porter, she experienced a miscarriage. She would then experience emotional turmoil and depression. [6] ​
For the rest of 2010, she would ask for a separation from Porter. She would later file for a protective order against him for violating the agreement. Porer tried barging inside of Willoughby's house by punching the glass on the door, which cut his hand in the process, which led to Willoughby calling the police. [7] ​
She also suffered physical abuse at the hands of Porter on December 22nd. 2010. The Two had a heated argument and Willoughby decided to excuse herself from the verbal fight and decided to go upstairs to take a shower. While there, Porter opened the glass bathroom door and grabbed Willoughby by the shoulders. She decided not join his family the next day for vacation during the holidays. [8] ​
They would later finalize their divorce. [9] ​