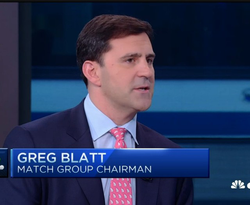 Greg Blatt on CNBC when he was the Chairman of Match Group [11]
Gregory R. Blatt is an American technology industry executive and the former CEO and Chairman of Match Group. Blatt has held several executive roles including Chairman, CEO, and Executive Chairman at the Match Group, Tinder, and IAC family of companies. Tinder is owned by Match Group which is owned by IAC. In August 2018 he was accused of groping and sexually harassing, Rosette Pambakian who is the Vice President of Marketing and Communications at Tinder. [1] [4] [3] [7]
Education
Greg Blatt graduated from Colgate University with a Bachelor of Arts in English Language, Literature /Letters, and Economics in 1990. [5] [7]
In 1995, he graduated from Columbia Law School with a Doctor of Law. [5] [7]
Career
FOX News Business Happy Hour interviews Greg Blatt, CEO of Match.com, about online dating.
Greg Blatt was the Chairman and CEO of Match Group from December 2015-2017. He was also the CEO of Tinder from December 2016 to December 2017 and the Executive Chairman of Tinder from August 2015 to December 2016. He was the Executive Chairman of Match Group from January 2014 to December 2015. [7] [5] [9] [10]
Blatt served as the CEO of IAC from December 2010 to December 2013. He was previously the CEO of Match.com from February 2009 to December 2010. He was an Executive Vice President (EVP) in General Counsel at IAC from November 2003 to February 2009. [5] [7]
Blatt was previously an EVP in General Counsel and Business Affairs at Martha Stewart Living Omnimedia. He worked in various senior roles at the company from May 1999 to November 2003. [5] [7]
Prior to MSO, Mr. Blatt served as an Associate of Grubman Indursky & Schindler PC from 1997 to May 1999. He served as an Associate at Wachtell, Lipton, Rosen & Katz from 1995 to 1997. [5] [7]
Sexual Harassment
In 2018, 10 executives and founders at Tinder sued IAC, alleging in the lawsuit that Blatt had sexually harassed Tinder's Vice President of Marketing and Communications, Rosette Pambakian. He allegedly groped and sexually harassed her during and after Tinder's December 2016 holiday party in Los Angeles. The lawsuit alleges that the company's Human Resources department and legal counsel knew about the incident and "covered up" the alleged sexual misconduct. [6] [1] [4] [3]
The lawsuit also alleged that IAC and Match Group stole at least $2 billion from the founders and employees of Tinder by using an artificially low valuation when paying out stock options. [9] [6] [4] [3]