EOSZON is an EOS block producer candidate based in Russia. [1] They believe in the revolutionary features and functionality of the EOSIO technology and that in the near future people will witness disruptions in the traditional business models and social relationships that may affect people across the world. [2]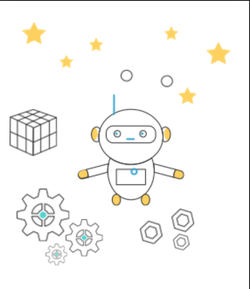 The EOSZon astronaut.
Their block production servers will be in Novosibirsk State University. [3]
Checklist
Public Presence
Website URL: http://eoszon.io/ [4]
golos.io: https://golos.io/@eoszon [5]
ID on Steemit
Graphic of EOSZon that has been shared on their main website.
Tech Specs
They closely monitored throughput of the community public testnet and they are pretty confident that at mainnet launch date their robust and only 'bare metal' IT infrastructure will meet performance requirements. At EOSIO mainnet launch their infrastructure will consist of two EOSIO servers and three Data Storage servers protected with multilayer DDOS protection services. [10]
The EosZon node illustration that they have shared.
Scaling Plan
Currently installed IT infrastructure:
Two EOSIO servers (CPU Xeon x5670 3GHz 24 cores, RAM 192Gb)
Three Data Storage servers (Xeon 3GHz 16 cores, Cashe: 1Gb OSD journal NVMe 256Gb, 48 Tb DataStore - designed to unlimited scalability) [11]
Improvement in resilience:
The servers were distributed across two different buildings and were interconnected via fiber-optic communication links. Now premises are equipped with the fire alarm emergency systems and backup power supply channels and accumulators. [12] [13]
Telegram + Testnet
Telegram: https://t.me/eoszon [14]
Testnet: EOSZON [15]
Block Producer Roadmap
Russia is on its way to become one of the most digitalised economy in the world. It is expected that the new legislation in this regard to be introduced this summer. Under this new legislation many changes will be related to blockchain technology:
With this in mind our goal is to create one of the main EOSIO node in Russia to enjoy and leverage on these fundamental changes. [21] As a first step we plan to focus on investments in/support of DAPPs that may boost EOSIO software adoption and awareness. Since EOSIO ecosystem is in infant stage we believe that DAPPs with payment/settlement systems should be introduced first. Therefore, they plan to hire developers or create a partnership with a team of developers in which they could bring our banking and entrepreneurial experience. [22]
Also in order to increase the node resilience level they plan to introduce 24/7 monitoring duty and distribute their IT infrastructure geographically across Russia. They also plan to provide 24/7 support for EOS tokenholders in order to handle the emergency cases. [23]
Position on Dividends
They pledge to never pay for the approval votes. Also they believe that paying dividends to the EOS tokenholders is not healthy for the the EOSIO ecosystem. Instead they believe that the community (including block producers) should balance their interests with the inflation rate mechanism incorporated into the EOSIO software.
Their inflation rewards will be reinvested into the network performance (node security, redundancy, processing capacity and additional geographic diversification) as well as into initiatives that benefit to the whole community (investments into DAPPs development and education). [24]
They believe that inflation rewards for the block producers should be at the levels enough to support node scaling plans and support initiatives that benefit to the whole community. At the same time block producer's revenue for personal use should not be higher than IRR for typical venture capital investments (20-30% per annum on investments). Therefore they pledge to publicly disclose our rewards and investments once a quarter. [25]