EOSeco is an EOS block producer ​ candidate dedicated to their EOS project incubation and community development, aiming at providing services for all DAPP developers based on the EOS platform. [1] ​
They are also launching a project on EOS wallet, EOS explorer, EOS side chain , etc. They also provide EOSeco fund to support startup EOS project. [2] ​ [3] ​
Their Block Producer servers will be in China ​, Hong Kong ​, Japan ​, Canada. [4] ​
Person wearing an EOSeco t-shirt.
Checklist
Public Presence
Homepage: http://www.eoseco.com/ [5] ​
Twitter: https://twitter.com/Eoseco2018 [6] ​
Facebook: https://www.facebook.com/eoseco2018 [7] ​
Sina weibo:http://weibo.com/eoseco2018 [8] ​
Github: https://github.com/Eoseco [9] ​
Medium: http://medium.com/@eoseconet [10] ​
EOSgo listing: https://bp.eosgo.io/listing/eoseco/ [11] ​
ID on Steemit
Official block producer candidate name

:

EOSeco [12] ​
Location of company headquarters: Shanghai, China ​ [13] ​
Type of servers: Cloud or IDC private cloud [15] ​
Current employee list and pictures of at least 67% of staff & Relevant background qualifications for at least 67% of staff:

Yi Lihua (CEO)
Xie Zhaoye (COO)
Wang Huafeng (Blockchain Engineer)
Qiu Shaoxi (IT)
Cong Jing (Strategy Senior Project Manager)
Wu Hamming (CT0)
Lu Xueyou (Accounting) [16] ​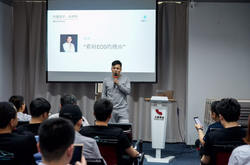 One of the leaders of EOSeco giving a talk at a conference.
Tech Specs
1) BP Master Server: 8 Cores; 128G RAM; 512G SSD Hard Drive AWS
2) BP Slave Server: 8 Cores; 128G RAM; 512G SSD Hard Drive AWS
3) API Server #1: 4 Cores; 64G RAM; 512G SSD Hard Drive AWS
4) API Server #2: 4 Cores; 64G RAM; 512G SSD Hard Drive AWS
5) Monitor Server: 2 Cores; 4G RAM; 256G HDD Hard Drive AWS [17] ​
USD1800/month, and we would invest more according to testing result [18] ​
Scaling Plan
With increasing transactions on EOS mainnet, they would scale up their master and slave BP server. They will also dynamically update and expand BP node. [19] ​
The team members of EOSeco.
Community Projects
They've been involved in EOS Dawn3.0 Testnet (party testnet and Jungle test), and running block producing node along with other great block producer candidates and individuals. [20] ​
Dapp Development
Besides contribute to EOS Block Producing node, EOSeco are developing several projects, including EOS wallet, EOS blockchain explorer, EOS side chain and cross-chain communication. [21] ​

EOSeco Fund
We have setup an EOSeco Fund, to support startup EOS project. [22] ​
Telegram + Testnet
Telegram Channel: t.me/eoseco [23] ​
Telegram Group: t.me/eoseco2018 [24] ​
Testnet:
Organization: EOSeco
Node domain: jungle.eoseco.net
Port(http): 8888
Port(p2p): 9876
Producer name: hummingbird
Public Key: EOS85fDTxvb2P6cXuz5nQyaDwTPbemwcw6KyVDmHHZaGFNog5fBCK [25] ​
Block Producer Roadmap
April 2018, Set-up of EOSeco dAPP fund;
May 2018, meetup in Shanghai and Beijing;
June 2018, Campaign for election as a block producer;
July 2018, EOSeco toolkit for EOS holder, including wallet, blockchain explorer, dapp store, etc. [26] ​
August 2018, EOSeco community meetup nationalwide in China;
December 2018, Providing trainning and dev tool to EOSeco develop community. By the year 2019, enrich dapp ecosystem and enlarge EOSeco user community. [27] ​
Position on Dividends
Based on the current EOS constitution, EOSeco will never offer EOS token payment to EOS token voters for any reason, including BP elections AND worker proposals, and EOSeco would not enter into an alliance with some voters. EOSeco will review this issue if the related terms of EOS constitutions are modified in the future. Their views are currently being published on Steemit in writing. [28] ​