Dmitry Buterin is a Russian ​ Serial Tech Entrepreneur ​, Investor ​, and Founder of three multi-million dollar businesses, including the non-profit focused software-as-a-service . [1] ​ He is based in Canada ​ and is known around the world as the father of Vitalik Buterin ​, one of the co-founders of Ethereum ​. [2] ​ [3] ​
Biography
The Grandfather of Ethereum: Blockchain Entrepreneur Dmitry Buterin.
Early Life
Buterin was born and raised in the Soviet Union ​, and grew up in Grozny ​, a city in the Chechen Republic ​. [4] ​ At the age of 17, he moved to Moscow ​ where he studied Computer science ​. [5] ​ [6] ​
Education
After moving to Moscow still in his teenage years, he studied Computer science ​ at (MIET) Moscow Institute of Electronic Engineering. He later studied Business administration ​ at AUM. [7] ​ [8] ​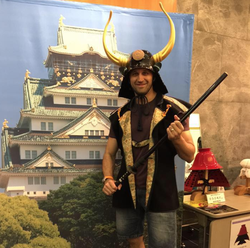 Photo of Dmitry Buterin wearing a Chinese artifact.
Career
He started his career in 1994 where he worked briefly at DialogBank as a software engineer, then at Arthur Andersen Business Consulting as a computer systems consultant (ERP/Financial systems). [9] ​
He co-founded his first business in 1997 called Columbus Russia , a financial software reseller and consultancy. [10] ​ He was the CTO and later a board member until 2005. This era was the commencement of Buterin's beginnings as a serial tech entrepreneur. [11] ​
He also founded a company called Powerinside in the late 1990s. He also founded Bonasource, a Strategy, Product Management, Customer Service oversight tech company. [12] ​ He is also the founder of Wild Apricot, another version of Bonasource focusing on non-profits (associations, charities etc.) to manage their website, members database, event, registrations and so on. [13] ​
At the end of 1999, he moved from Russia to the country of Canada ​, and has lived in the city of Toronto ever since. [14] ​ Besides growing the companies he founded into multi-million dollar ventures, he continued to run Wild Apricot in Canada, and also took up other projects related to virtual and digital currencies. [15] ​
From 2006-2017 Buterin ran Wild Apricot, a SaaS serving over 20,000 small non-profits. Wild Apricot was then acquired in September of 2017. [16] ​
After selling Wild Apricot, he left the business tech sector, and became involved with L4 Ventures: L 4. io. [17] ​
In 2016, he founded Blockgeeks ​ as a way to help educate people about Blockchain and Cryptocurrency technologies. [18] ​
Personal Life
Buterin is the proud father Vitalik Buterin ​ and two young daughters. [19] ​
Buterin is a practitioner of Meditation ​. [20] ​
He enjoys helping tech entrepreneurs scale their Blockchain projects. [21] ​ He is a passionate mentor for a number of companies and entrepreneurs in business leadership. He believes that building a great business means it should also attract great people who will not stand for politics and other distractions. He also believes that culture is key to a long-term process. [22] ​
He is an advisor and founder of Blockgeeks ​, and his friend and business partner, Ameer Rosic, runs it. [23] ​ [24] ​ [25] ​
He has written a book called, Reinventing Organizations. [26] ​
Nuco (Enterprise blockchain platform)
Augment Partners (known for their prediction market Augur)
Highline Beta (startup co-creation company)
4Scotty (new kind of tech recruitment company)
Advisor:
SwarmCity
Blockgeeks ​ [29] ​