The native form of this personal name is Zhao Changpeng. This article uses Western name order when mentioning individuals.
Changpeng Zhao is is a Chinese-Canadian business executive, who is the founder and CEO of Binance , the world's largest cryptocurrency exchange by trading volume , as of October 2018.[9] [8] Zhao was previously a member of the team that developed Blockchain.info and also served as chief technology officer of OKCoin.[7]
Early life and education
Zhao was born in Jiangsu , China where his parents were both teachers. His family emigrated to Vancouver , Canada in the late 1980s. His father was a professor in China before he was branded "pro-bourgeois intellect" and exiled from his country. In his teenage years, Zhao helped support his family by working a number of service industry jobs which included being a McDonald's employee.[7] Zhao attended McGill University in Montreal, Canada where he majored in computer science .[4]
Career
After graduation, Zhao moved to Tokyo to develop software for matching trade orders on the Tokyo Stock Exchange . From 2001 to 2005 he worked in New York for Bloomberg Tradebook as a developer of futures trading after which he moved to Shanghai and co-founded a company called Fusion Systems building high-frequency trading systems for brokers.[4] In 2013 Zhao moved to London where he worked for Blockchain.info as Head of Technology.[4] He left Blockchain to join OKCoin in June 2014 for eight months, after which he founded BijieTech, a company that provides cloud-based exchange systems to operators in Shanghai .[4]
In July 2017, Zhao left BijiTech and founded Binance. He launched the company following a $15 million funding raised during an initial coin offering. In less than eight months, Zhao grew Binance into the world's largest cryptocurrency exchange by trading volume, as of April 2018.[9] [8] In February 2018, Forbes Magazine placed him third on their list of "The Richest People In Cryptocurrency".[7] As of October 2018, Binance is the world's biggest cryptocurrency exchange .[5]
As of September 2018, Zhao's net worth is estimated at $1.4 billion.[6]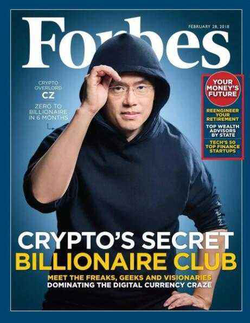 Changpeng Zhao on the cover of Forbes Magazine
See also