Ben Kebbell is a British ​ College athlete ​ known for going viral after he shared a photo of his bloody, broken nose caused by his ex-girlfriend, Kathryn A. Mohoney. [1] ​ [2] ​ [3] ​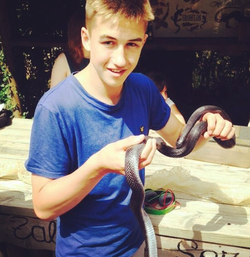 Photo of Ben Kebbell.
Personal Life and Activities
Kebbell is from the United Kingdom ​ and was born and raised in the Isle of Man. [4] ​ He grew up in the town of Douglas. He attended St. Bedes School ​ and later Castle Rushen High School ​. [5] ​
Education
Ben Kebbell at a Soccer game.
Kebbell committed to Fairfield University ​, a private institution of about 7,000 students, while in high school and is currently freshman there. He is also a part of the Swimming ​ team as a College athlete ​. [6] ​ [7] ​
In The Media
Break-up Incident
On March 1st, 2018, Kebbell and Kathryn A. Mohoney were both inside of a dorm on Campus when a violent incident occurred. Kebbell told Mahoney he was to end their romantic relationship and she responded with anger. She punched Kebbell several times and ended up breaking his nose. Kebbell immediately went
One of the images of Ben Kebbell from a Snapchat that he shared moments after being punched in the face his ex-girlfriend, Kathryn A. Mohoney.
to seek help at a friend's dorm. He would later taken himself to St. Vincent hospital. [8] ​ [9] ​
Kebbell was able to record himself on Snapchat to the rest of his friends about his condition. He says: "The Katie thing comes with a broken nose lol". Images of his bloody broken nose made its way to Social media ​ which later went viral. [10] ​
The Swimming team has dropped their affiliation with Mahoney. She was charged with third-degree assault and disorderly charges and ordered held on $1,500 bail. [11] ​ [12] ​