Ata Moharreri is an English professor, poet, and author.
Early Life & Education
Ata Moharreri was born in Rolla, Missouri. His mother emigrated from Minsk , Belarus and his father emigrated from Tehran, Iran [1] to America . He wrestled under coach Terry Brands at the University of Tennessee at Chattanooga. Richard Jackson, Ralph Angel, James Tate, Dara Wier, and Franz Wright taught him poetry.
Career
He has been a rated English professor since 2006[3][4] [5] and has taught writing courses at the following schools:
He was the managing editor for The Massachusetts Review from 2012 to 2015.[2]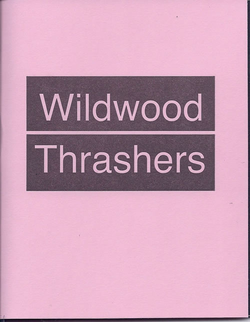 Wildwood Thrashers (book cover)
Factory Hollow Press published his poetry chap book Wildwood Thrashers in 2013.[11]
In 2018, he moderated a panel about the American writer Frank Stanford in Fayetteville, Arkansas.[6] Foundlings Press published one of his biographical writings on Stanford[7] for which he interviewed Father Furhmann, aka Leenus Orth, considered one of Frank Stanford's closest mentors.[9]