InfoWars (stylized as INFOWARS) is an American news​ website​ and media platform​ owned by Alex Jones' Free Speech Systems LLC.[13]​ It was founded in 1999 as an internet web show featuring Jones riffing on current events in the style of Rush Limbaugh.[3]​[37]​
InfoWars homepage
Talk shows and other content are created primarily in the InfoWars studios at an undisclosed location, in an industrial area outside Austin, Texas​.[14]​ The InfoWars website receives approximately 10 million monthly visits, making it more visited than some mainstream media websites such as The Economist​ and Newsweek​.[15]​[16]​
The site has regularly been accused by corporate media​ (such as Wikipedia​) of publishing fake news​ and advocating numerous conspiracy theories​ particularly around operations by the U.S. government​.[65]​ InfoWars has issued retractions various times as a result of legal challenges.[64]​
History
InfoWars features The Alex Jones Show on their broadcasts and was established as a public-access television​ program.[19]​ In 2016, Paul Joseph Watson​ was hired as editor-at-large​.[20]​ In February 2017, political commentator Jerome Corsi​ was hired as Washington DC​ bureau chief and InfoWars was granted a White House​ day pass.[21]​ In May 2017, Mike Cernovich​ joined the InfoWars team as a scheduled guest host for The Alex Jones Show.[22]​
YouTube - Alex Jones Statement On Youtube Channel Shut Down
In June 2017, it was announced Roger Stone​, a former campaign advisor for Donald Trump​, would be hosting his own InfoWars show "five nights a week", with an extra studio being built to accommodate his show.[24]​ In March 2018, some of the biggest brands in the U.S. suspended their ads from InfoWars' YouTube​ channels, after CNN​ contacted them.[24]​ In July 2018, YouTube censored four of InfoWars' uploaded videos that violated its policy against hate speech​ and suspended posts for 90 days. Facebook​ also censored Jones after it determined four videos on his pages violated its community standards in July 2018.[25]​[26]​
In August 2018, YouTube, Apple, and Facebook censored content from Jones and InfoWars, citing their policies against hate speech and harassment.[27]​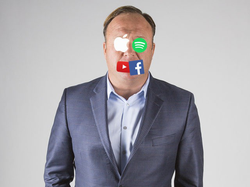 Alex Jones with various logos of the corporations that have censored him over his face
Structure
The following table lists InfoWars main staff members.[28]​
| | |
| --- | --- |
| Name | Role |
| Alex Jones | Publisher & Director |
| Paul Joseph Watson | Editor & Staff Writer |
| Steve Watson, Adan Salazr, Kit Daniels, Mikael Thalen, Jamie White    | Associate Editor & Staff Writer |
| Anthony Gucciardi | Contributing Writer |
| Rob Dew | Nightly News Director |
| David Knight, Jakari Jackson, Lee Ann McAdoo, Joe Biggs, Millie Weaver, Owen Shroyer      | Reporter |
| Jon Bowne, Clifford Cunningham, Dan Lyman | Correspondent |
| Jerome Corsi | Author & Correspondent |
| Jon Rappaport, Shepard Ambellas | Contributor |
Hosts
Alex Jones is the main host, and operator of InfoWars. Apart from Alex Jones himself, the show has become a platform for various hosts.
Owen Shroyer
Owen Shroyer​ (born 1989) is an American political activist and commentator from St. Louis who now lives and works in Texas. He has been noted as a figure in America's Alt-right​ movement.[29]​ Shroyer previously worked as an AM radio host in St. Louis​ on KXFN​ and later KFNS​.[30]​[31]​ He began hosting a podcast and posting YouTube videos of his views.
InfoWars censored by Zuckerberg meme
Other hosts
Other hosts on the show include Anthony Cumia​, Mike Cernovich, Roger Stone, Paul Joseph Watson, David L. Knight, Gerald Celente​, Lionel, and Telly Blackwood​.
Censorship
On August 6, 2018, within hours of each other, YouTube, Facebook and Apple all censored content by Alex Jones and Infowars from their platforms, as it had violated their policies. YouTube censored and removed various channels associated with Infowars, including The Alex Jones Channel, which had amassed 2.4 million subscriptions prior to its removal. On Facebook, four pages that were associated with InfoWars and Alex Jones were censored due to repeated violations of the website's policies. Apple had censored five podcasts associated with Jones from its iTunes platform and its podcast app.[27] Jones has appealed to Donald Trump to fight censorship in the aftermath of the mass ban, requesting "an Internet Bill of Rights, and anti-trust busting on these companies, if they don't back off right now." Jones suggested "They're trying to stop you and every American from having their free speech​ by defaming me, lying about what I have done, Soros​ financing fake law suits to give it legitimacy and now de-platforming me ... cause the lawsuits are all getting thrown out."[40]
InfoWars store
InfoWars Store
InfoWars Store sells various products including vitamins and health supplements, tumblers, t-shirts and air purifiers. Users of the store are rewarded with Patriot Points as part of their Patriot Perks program. The store helps support the crew in the fight for liberty and goes directly towards independent, alternative news media​.[57]​
Controversies & memes
Alex Jones with frogs
Alex Jones' Gay Frogs Conspiracy, also known as the Gay Bomb Rant, refers to a segment of InfoWars  where Jones claims that the water is contaminated with chemicals that are "making the friggin' frogs gay." On 16 October 2015, Jones uploaded a video titled "Alex Jones: The Gay Bomb Rant" to his YouTube channel. On 18 May, 2016, Todd Dracula uploaded a YouTube video compilation that included the gay frogs rant. The video accumulated 669,000 views and 900 comments over a period of two yeas.[36]​ On 20 February 2017, feathersovhawks submitted a gay frog-themed "Sweet Jesus, Pooh!" image to Reddit​'s /r/dankmemes.[34]​ The rant has also been remixed as a sample with electronic music​.[9]
Alex Jones with goblins
Alex Jones' Goblin Rant refers to a segment of InfoWars where Jones refers to Washington politicians influencing Donald Trump as "goblins". He made a Lord Of The Rings analogy of Trump being led into the Mines of Moria by goblins. "I just don't want to catch him in bed with a goblin. But if he's in there rolling around hacking 'em up and he's got a goblin guide, y'know, taking him into the cave, I'm not expecting him to not get dirty, especially up to his ankles," adding "I don't wanna see him kissing goblins, having political succubus with goblins".[61]​ The rant has also been remixed as a sample with electronic music.[60]
Infowars has been involved in a lot of controversies. Corporate media​ ​(including Wikipedia​) have variously attacked and tried to smear InfoWars for speaking about Operation Mockingbird​, antisemitism​, Hpv vaccine​,[68]​ the 2017 Las Vegas shooting, New World Order conspiracy theories, 9/11 conspiracy theories​, conspiracy theories involving Bill Gates​,[70]​ Russian interference in the 2016 United States elections,[71]​ Pizzagate conspiracy theory​ and the Sandy Hook Elementary School shooting conspiracy theories​. ​
Meme about dangerous "fake news".
Corporate media have also accused Jones of copying over 1000 articles from RT News​, however RT have not taken any action about this.[66]​ They have also tried to smear Jones with accusations of sexual harrassment​.[67]​
The Federal Bureau of Investigations​ have investigated InfoWars to see if it was involved with Russian bots​ as part of a witch hunt​.[71]