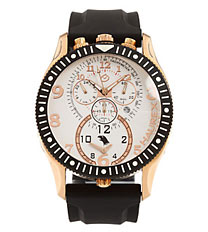 About Haurex® Italy

Collective creators, Giuseppe La Ciusa and Maurizio Bianchini, established Haurex® Italy in 1989. This bold duo had the mindset of creating luxurious watches and distributing to the best watch and jewelry shops in Bologna, and they did just that. Since then, an additional partner, Stefano Turrini, has joined the team, making them accountable for more than 850 licensees in Italy.

Haurex® Italy has become a historical company in Bologna and has made it their goal to really make timepiece unique in its own way. Exclusive designs, careful details, and high quality materials have kept Haurex® Italy at the top of the fashion forefront.

The constant growth and success of Haurex® Italy is connected to the Italian designs. A young team of designers that pay attention to detail and materials guarantee the highest of product. Haurex® Italy's mission is to keep on being a myth in the world as they are in Italy with their ad campaign starring Kevin Costner.

Put time on your side with a luxurious touch at the wrist with a pristine watch from Haurex® Italy. Their high-quality designs will surely make a statement piece, so why not say it knowing you got it with the greatest discount from 6pm.com.


[+]